What's Really In Our Teas? Your Questions Answered
April 4th, 2014 by
Kate
Tea drinking has been linked to a multitude of benefits, from weight loss and improved digestion, to mental clarity and sparkling charisma (I made up that last one but looking around at our staff, it might be true). While we make no specific health claims about our teas, we are certainly encouraged to keep drinking. Our consumption levels around the office are completely out of hand, so I have our customers to thank for having some idea of how much tea the average consumer enjoys on a daily basis. And the answer is usually multiple cups. You all might not drink as much as we do, but you drink a lot. With anything you're consuming a lot of (especially for health reasons,) it's generally a good idea to know the ingredients involved and how they're grown. So, here are some answers to your frequently asked tea questions, and a few new teas (with no artificial ingredients) to try!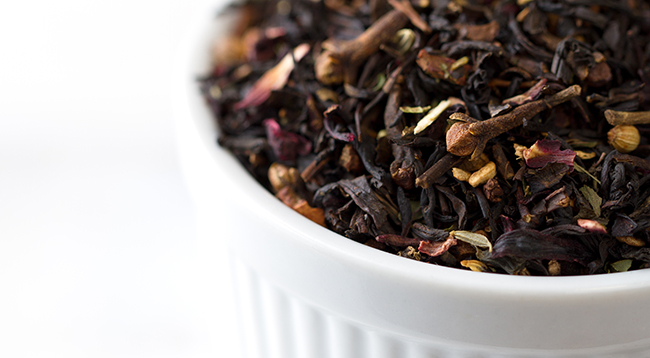 How safe are your teas?
Teas cannot be imported without meeting the FDA's standards. All of our teas are tested for pesticides, allergens, biological contamination, mold and moisture and we keep certificates of analysis on file for each tea. This certification does not provide the specific amount of residue that may or may not have been found in the tea, it simply states that the tea meets the federal government's requirements for safe consumption. As mentioned earlier, we drink MANY cups a day and stand by the quality and safety of our teas.
Are any of your teas organically grown?
Our facility is in the process of receiving organic certification from the NJDA. Once this process is complete we will be able to label our organically grown products as such and look forward to expanding our line-up of organic teas. Below is a list of the teas we currently offer that are grown organically:
Assam Tonganagaon GFBOP Black Tea
Golden Nepal Black Tea
Pu-Erh Tea
CO2 Decaf Green Tea
Mao Jian Green Tea
Sencha Zhejiang Green Tea
West Lake Dragonwell Lung Ching Green Tea
Bai Mu Dan White Tea
Honeybush Herbal Tea
Hibiscus C/S
Yerba Mate Select Herbal Tea
Do you carry any teas with no artificial flavor or additives?
Yes! The ingredients list for most of our teas is quite simple – one ingredient each. For example, Assam black tea is simply Assam tea from India and Young Hyson green tea is Young Hyson green tea from China. There are no chemicals, flavors, preservatives or other additives. What about our flavored teas? Many of our teas are flavored with natural and artificial ingredients, all of which are FDA approved. While all are considered safe for consumption, we understand that some people choose to avoid these ingredients and so we make it a point to always offer a wide selection of teas with no additives as well. And while we have a good time concocting mad-scientist worthy flavor combinations like Maple Bacon Chai or Blueberry Lemon Cake Rooibos, we know tea purists like to have some fun too. That's why we have some new teas for spring creatively flavored with herbs, spices, fruit pieces, and no artificial anything. We're very proud of the results! Here they are with their ingredients:
Barefoot in the Woods: Sencha, Green Rooibos, elderberry, lemongrass, cardamom pods, cracked star anise
Lavender Lemonade: lemon myrtle, hibiscus, lavender, marigold petals
Spring Blossom: Mao Jian Green Tea, blackberry leaves, freeze-dried cherry pieces, dried cherry whole, barberry fruit, hibiscus, rose hips, rose petals
Peppermint Rose: peppermint, rose petals, rose hips, lemon verbena, hibiscus, orange pekoe
We've been getting a lot of these questions lately in response to a recent "Food Babe" article about toxins found in popular brands of tea. You can read it here. In the interest of fairness, you might also want to check out this chemistry-heavy (for the average liberal arts type, anyway) response to Food Babe's blog. These posts might further answer your questions or they might spark a few more. We'd like to hear your thoughts on the subject, so please share your comments below!

Tags: additives, artifical flavors, Food Babe, GMOs, loose leaf tea, organic tea, pesticides, tea ingredients, tea toxins, toxins