New Tea Sizes
October 28th, 2010 by
Anthony
For the first time in more than 3 years we are adding choices to the size of tea packages available on CoffeeBeanDirect.com. In addition to our 2-lb and 5-oz bags you can now purchase tea in 1-lb bags or 5lb packages.

Why the new sizes?
Who doesn't like choices? Although 2-lb and 5-oz bags have proven themselves to be favorites of our customer base, we thought it was time to provide more options. We are working diligently to expand the tea side of the Coffee Bean Direct family; these new sizes are just the first of many additions and improvements you will be seeing over the next year.
Which size should I try?
If you are like me, you have more than one favorite tea. The 1-lb bags are perfect for anyone who does not drink the same tea every day… or someone who likes to drink different teas throughout the day. Buying a few "one pounders" allows you to stock up and have a variety all at the same time.
The 5-lb packages are perfect for tea shops, cafes, restaurants, or any home drinker who knows exactly what tea they want. All our prices are designed to be wholesale—providing everyone the lowest possible prices for the same fine quality teas found on other websites—but buying the bulk 5-lb package allows you to save even more money.
What can I expect when my order arrives?
The packaging will vary depending on the tea you purchase. If you are familiar with a variety of teas you know that they come in all shapes and sizes. Pinhead Gunpowder green tea leaves are little rolled pellets of tea, while Peony white tea leaves are large, crisp leaves that almost look like you swept them off of your lawn during the fall. To protect the leaves from being crushed we have found several different sized bags, pouches, and boxes that are appropriate for each tea. Other companies will purchase one bag or one size tin, and then sell whatever amount of tea fits into the package. We would rather keep our quantities consistent to make your shopping experience easier. Before you even open your web browser and start shopping you know that every variety is available in 5 oz, 1 lb, 2 lb and 5 lb.
Smaller 1-lb teas like Pinhead Gunpowder green and Honeybush herbal will be packaged in re-closeable tan pouches similar to the bags our 1-lb coffees are sold in. The remaining 1-lb teas will ship in either medium or large sized tan bags.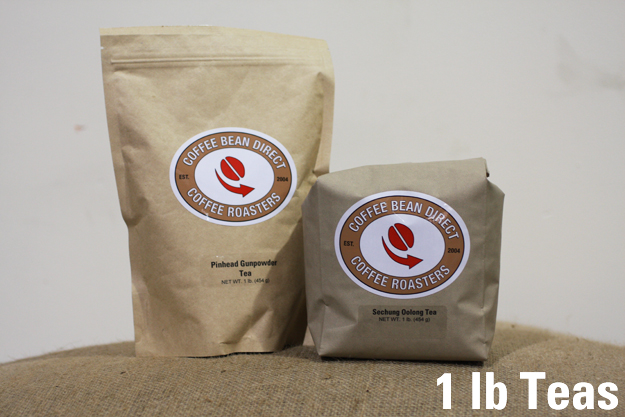 The smaller teas-like CO2 Decaf English Breakfast or Sechung Oolong-will ship in a large, foil lined 5-lb black bag. If you have ever ordered our 2-lb Peony white tea then you have seen the bag. Our larger, more delicate teas such as the Peony white tea or Golden Nepal will ship "bag-in-a-box" style. They will be packed into a plastic bag inside a sturdy cardboard box. Depending on the size of your order, the teas will either be shipped separate right in that box or will be packed inside a larger box with the rest of your teas.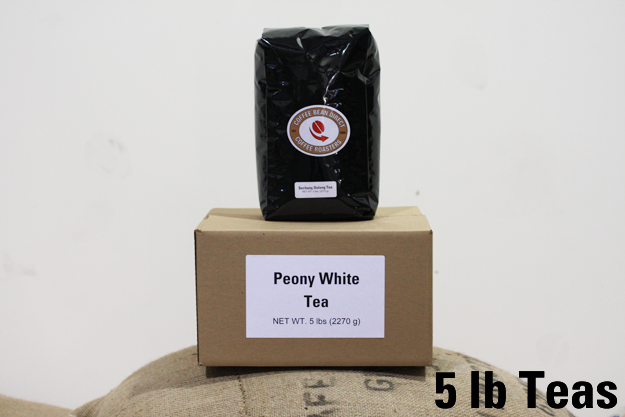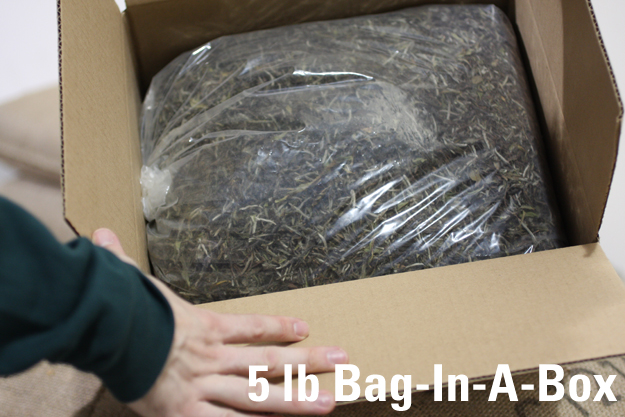 We hope you like the new options. Please continue to give us feedback to guide us as we improve and add to our products.