Behind the Flavor: Black Forest Cake
June 22nd, 2015 by
Kate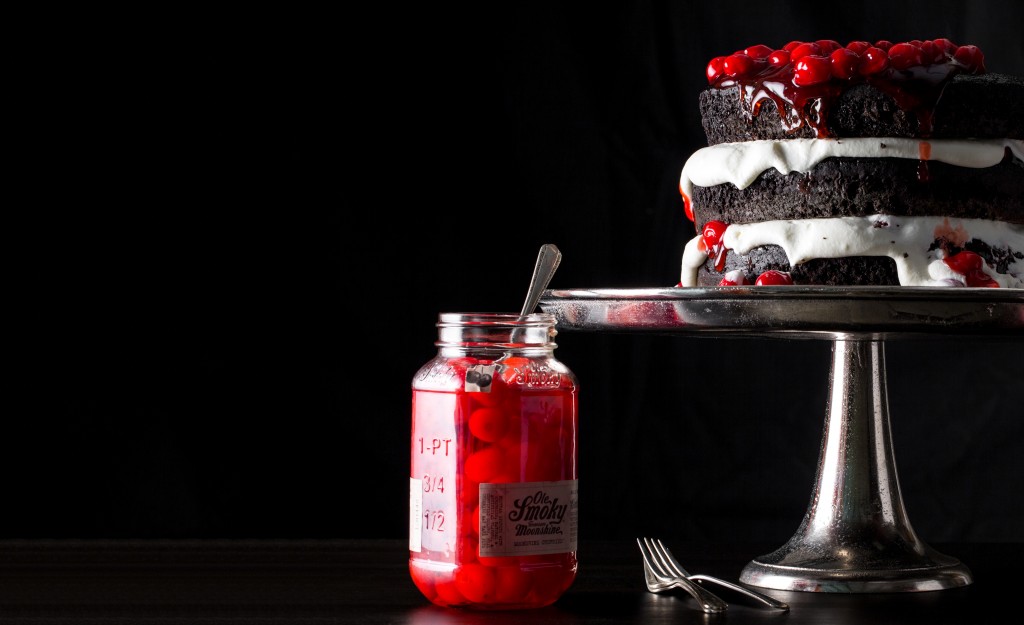 We unveiled a new flavor this month: Black Forest Cake, inspired by this delicious rustic version the traditional German dessert. While we feel
Black Forest Cake coffee
does the flavor justice, we did eat the cake pictured above in the name of research and feel slightly guilty that we didn't share. So, here's the recipe, adapted loosely from
Butter and Brioche
, baked by our shipping supervisor Lori.
While kirsch liqueur is traditionally used in the cherry topping, we skipped that step with store-bought cherry pie filling, but gave it a hillbilly twist, adding moonshine-soaked cherries on top. Consider it the rural New Jersey version.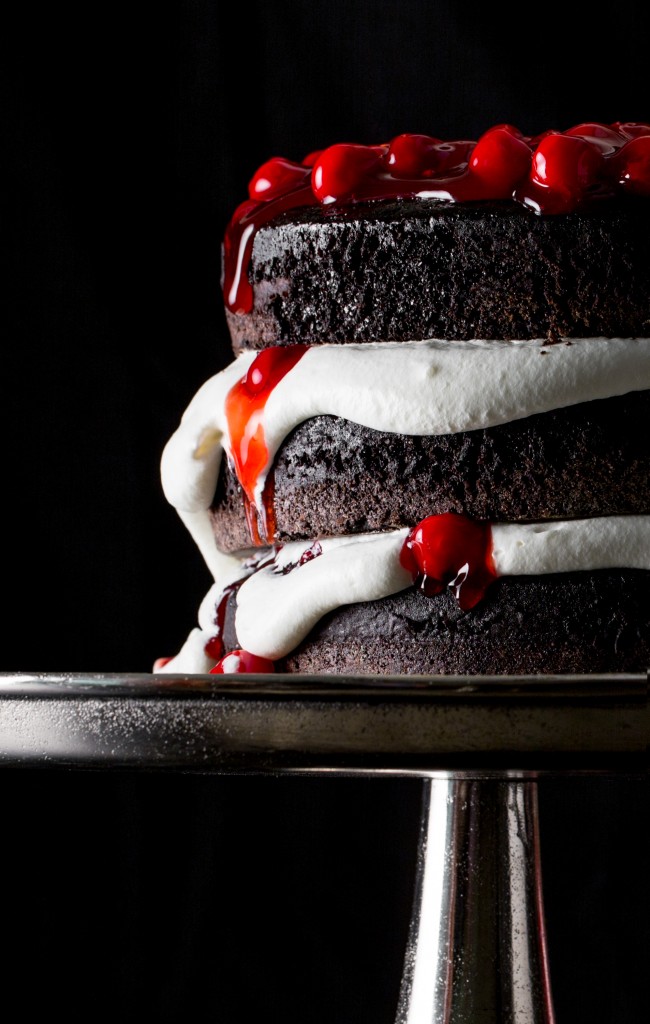 Ingredients
For the cake (three layers):
2-1/2 cups flour
2/3 cup + 3 tbsp cocoa powder
2 tsp baking powder
2 tsp baking soda
Pinch of salt
2 cups sugar
2 large eggs (room temperature)
1-1/3 cup sour cream (room temperature)
1/2 cup (one stick) butter, melted
2/3 cup + 3 tbsp boiling water
For the frosting:
17.5 oz mascarpone cheese
6-8 tablespoons confectioners' sugar
2/3 cup + 3 tablespoons cup heavy whipping cream
For the cherries:
Directions
Bake the cake:
Heat an oven to 350 F. Grease and line three 7 inch cake pans.
In a large bowl, sift together the flour, cocoa, baking powder, soda and salt. Stir to combine.
Add the sugar, eggs, sour cream, butter and hot water. Stir gently until the batter is uniform and smooth.
Divide between the three prepared cake pans.
Bake for 25-30 minutes then let the cakes cool in their pans for 10 minutes before inverting onto a cooling rack. Let the cakes cool completely before leveling any domed tops and assembling.
Whip the cream:
Beat the mascarpone and confectioners' sugar until creamy. Add the cream and whip until thickened and spreadable, being carefully not to over whip and split the mixture.
Put it all together:
Place the first cake layer on a serving platter. Spread a thick layer of the mascarpone cream frosting on-top. Place cherry topping over the frosting and gently press in to indent.
Place the second cake layer over the first and repeat the layering process as before.
Top with the third cake layer. Decorate with a generous amount of cherry filling, adding some moonshine cherries (recommended) to the mix. Refrigerator before serving.

Tags: black forest, black forest cake, cake, cherries, cherry chocolate cake, chocolate, Coffee, dessert, flavor, moonshine, recipe, whipped cream