A Tea Party With Woman's Day
April 16th, 2014 by
CBD

For a company that has always grown via word of mouth, we get very excited about media attention. We were especially thrilled when Woman's Day Magazine reached out to us. They wanted to interview Anthony, our resident tea expert for an article titled "Tea & Company." The goal of the article was to bring back the lost art of the tea party and they needed Anthony's help to do it.
You probably haven't met Anthony, but if you have, you know he can talk about tea for hours. This made him a perfect resource for Woman's Day Senior Editor Taryn Mohrman. They started with the basics – how to steep the perfect cup of tea. After that was a lesson on how one plant can turn into so many different types of tea. What Woman's Day was really interested in, however, was how to blend teas. Anthony and Taryn started with more than 10 basic teas and Anthony demonstrated all the many combinations that could be created. Earl Grey with rose petals? How about Dragonwell green tea with lemongrass? The best part is that Woman's Day is giving away all the teas to five lucky winners!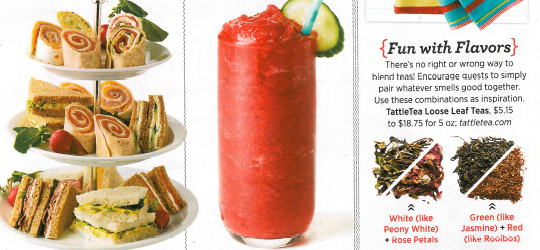 We're featured in the May issue of Woman's Day which is on sale now. Check out the article it's full of DIY instructions for hosting a perfect tea party as well as tasty sounding recipes for sandwiches, cookies and frozen tea drinks.
Here's the link to the tea giveaway in case you're feeling lucky:
http://www.womansday.com/sweepstakes/29548

Tags: giveaway, loose leaf tea, tea blends, tea party, Women's Day