Holiday Gift Guide 2010
November 30th, 2010 by
Anthony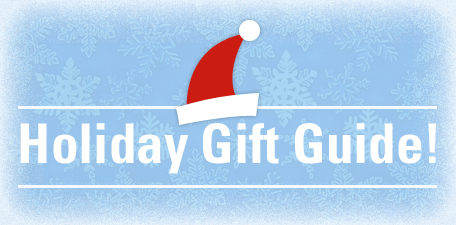 Have you noticed that there are two sides to the holidays? Before Halloween is over the stores start selling Christmas trees and holiday lights, and the TV starts advertising classics like Rudolph and Frosty. All of this invokes peaceful thoughts of snow and sleigh riding, eggnog and fireplaces, and above all, quality family time. What we tend to overlook is that other side of the holidays: long lines, angry crowds at the mall, waiting at 5 am on Black Friday for stores to open to save a few much needed dollars. We circle the parking lot over and over to find a space; we scour stores for the perfect gift only to find out it's sold out; we ask store employees for help that's rarely given, and we wait in line only to be cut by someone who thinks their time is more valuable than ours. You run and you rush and above all you stress… why? Because there are people in your life who mean the world to you and the holidays are your chance to show your appreciation.
Perhaps there is an easier way…
Obviously we are advocates for ordering your gifts online and avoiding the stores—it is how we make a living. Beyond that, however, we truly feel our coffees and teas make great gifts. If your friend or family member loves coffee, get them the freshest bag of gourmet coffee they have ever had. They will think of you every time they pour a cup and take a sip. If your loved one enjoys tea buy them their first bag of loose leaf tea and a box of T-sacs® so they can have fun bagging their own tea and experience the flavor of quality, whole leaf tea.
There are many different types of coffees and teas and many different types of coffee and tea drinkers. It can be very hard to decide what coffee to buy when you want to pick the most absolutely perfect choice. Hopefully you will find the chart below helpful. It separates the coffees and teas by category—Does your husband like dark roasted coffees? Does Dad drink decaf? Does your sister drink flavored?—then the chart lists the most popular coffees that our customers buy, as well as what the staff recommends in each category.
Our overall #1 choice, for a coffee that any and every drinker will love, is Colombian Supremo. For years now, Supremo has been our most popular coffee. Light and well-balanced yet with a full flavor, it is great for novice coffee drinkers and veteran coffee snobs. Our Roast Master Al recommends our City Roast Costa Rican as a gift that will make anyone happy. Too new to be a #1 seller like the Supremo, City Roast Costa Rican is quickly becoming the favorite of everyone who drinks it.
If your family member likes flavored coffee our Flavor Specialist Mike recommends our newest flavor, Winterdoodle. This seasonal version of our popular Cookiedoodle coffee is already receiving great feedback. Based on popularity, our customers recommend Hazelnut, Jamaican Me Crazy, and Highlander Grogg.
For Organic and Fair Trade coffee lovers, our top sellers are Organic Fair Trade Espresso and Organic Fair Trade Sumatra Gayoland (both light and dark). Our Office Manger Meg recommends the Organic Fair Trade Guatemalan Huehuetenango. She loves the coffee, our customers give her lots of positive feedback when they order it, and it's just fun to say… Way-Way-Ten-An-Go!
Our overall #1 choice for tea is English Breakfast. This blend of black teas is a traditional, timeless classic and has always been one of our most popular teas. Marcie, our Social Media Coordinator, wanted to give some love to our Pumpkin Chai Tea. Normally Marcie prefers coffee to tea, but around the office we have noticed her sneaking a cup of Pumpkin Chai almost every afternoon since the weather turned cold… that must be a good sign.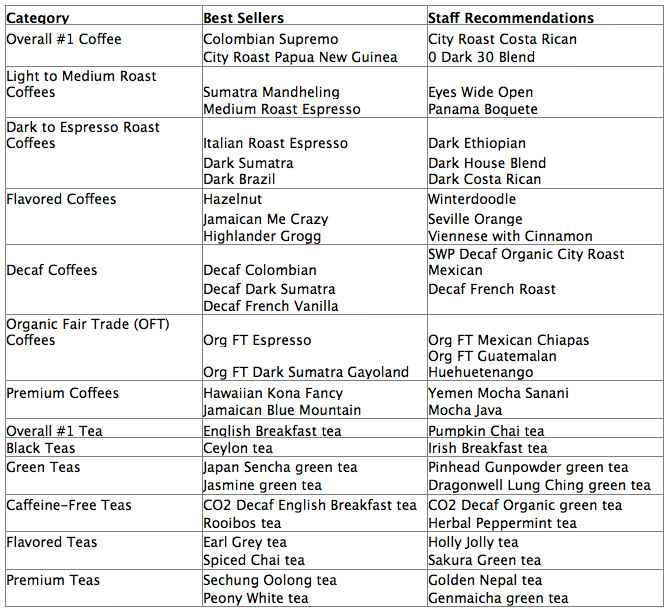 We hope you find our gift guide helpful. If you have more questions that need to be answered before you can pick the perfect gift, feel free to call or email us; we have extended office hours during the holidays to help you as best we can. Remember when you're out and about in the holiday rush: all the spending and stressing will be worth it in the end, when you're finally able to stop and relax with your family and see their faces as they open the gifts you worked so hard to find for them. Hopefully, CoffeeBeanDirect.com can save you a few trips to the mall in the mean time.